Vektrex 10A SMU Takes the SSL Enabling Technology and Test Category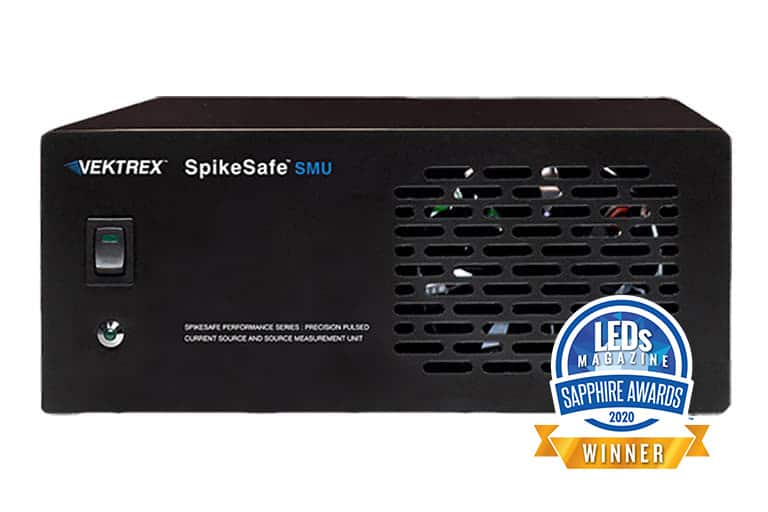 LEDs Magazine's Sapphire Awards celebrate innovation in enabling technologies for lighting products and lighting product that use those technologies. With over 100 products nominated, spanning 18 categories, Vektrex's SpikeSafe Source Measure Unit took the SSL Enabling Technologies and Test category at the recent Sapphire awards banquet.
The winning 10A SpikeSafe Pulsed SMU is an innovative tool developed in response to the industry's need for improved testing. LED characterization, according to an article written by Vektrex CTO Jeff Hulett in 2017, must transition to newer test methods that don't create unnecessary heat effects, which throw off the results when high-efficacy LEDs are characterized.
According to Hulett, the SpikeSafe 10A Pulsed SMU enables lighting scientists to "source what you can't source, measure what you can't measure, test what you can't test, and see what you can't see." 
The SpikeSafe Pulsed SMU offers accurate pulsing down to 1 µs with on-the-fly pulse width correction that ensures uniform pulses that reduce device junction heating, improving LED characterization. The SMU includes other industry-first features like Continuous Power Conversion (CPC) that provides the sustained power necessary to test up to 600W devices using LM-85's Single Pulse and DC test methods.
The resulting improved characterization data can be presented to lighting industry customers for use in the creation of new products. For example, with reduced device junction heating, more accurate IV curves are easily generated. These improved curves allow SSL product developers to quickly tailor designs to an LED's characteristics, ultimately reducing R&D costs.
The SMU's integrated bias current source and digitizer functions also simplify and automate in-situ junction temperature measurement using JEDEC's Electrical Test Method. LED junction temperature is a key parameter referenced in most datasheet specifications. While junction temperature is important for manufacturer's specifications, knowing the in-situ junction temperature may is equally important for lighting designers. The SMU allows lighting designers to validate the in-situ operating junction temperature of LEDs in a luminaire, reducing the risk of product failures and expensive warranty support issues.
"The 2020 Sapphire winners showed us amazing advancement in light sources" said the evening's emcee, Maury Wright, in a statement released by LEDs Magazine. "Our winners represent the best the industry has to offer, and project the technology paths forward that will yield stunning solid-state lighting (SSL) products, and applications."
When she accepted the award, Vektrex's CEO, Melissa Ford, stated "Vektrex is committed to developing innovative products and constantly improving testing technologies. Measurement errors of 4% are unacceptable and unnecessary given the new innovative tools in the marketplace."
Learn more about the SpikeSafe Source Measure Unit.