Vektrex is the leading supplier of LED reliability and burn-in test systems. Vektrex systems populate facilities world-wide supporting reliability test of LEDs and other semiconductor devices. Based upon the energy-efficient SpikeSafe™ series current sources, the systems are reliable with an MTBF of 175,000 hours. Energy efficiency reduces operational cost shortening return on investment. Manufacturers are confident of SpikeSafe relying on the current sources to reliably and accurately test their devices without inserting conditions that mask the true device reliability. With a modular architecture easily scaled for increased capacity and a wide range of SpikeSafe current source options, these systems support many operational modes for devices today and in the future.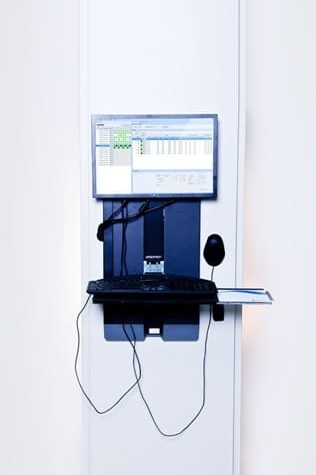 Designed for operator, system and test device safety, SpikeSafe™ load protection continuously monitors voltage and current on all source channels and instantly shuts down when device anomalies are detected. Rapid shutdown preserves the failure device for analysis, protects other devices, reduces failure counts and improves reliability results.
A Complete High-Capacity System
Vektrex Reliability Systems are built on scalable, industry-leading SpikeSafe™ series current source modules for high power density. Systems are modular and energy-efficient with the flexibility of integrating up to 1,024 current source channels in a compact electronics cabinet. Spikesafe current source guarantee current accuracy to the ends of long cables. One Spikesafe reliability system may support multiple chambers, hundreds of tests and thousands of devices in one room. STARS software brings together complete control, automation, monitoring and device protection in one, easy-to-use application.
Software Simplicity
Vektrex software applications are designed to address and support a wide range of reliability testing needs. SpikeSafe™ Test and Reliability Software (STARS) controls and monitors channels, loads, and thermal control devices during testing. With STARS, long-term reliability and burn-in tests are automated for unattended 7/24 operatoin. STARS supports independent channel startup and shutdown allowing multiple LED batch runs on a single system for optimized output. STARPLOT software provides a graphic view of data to quickly identify and illustrate trends.
From precise measurement to fail-safe device protection and remote thermal control, Vektrex software simplifies test control and data collection.
Confidence
Whether you're expanding existing test capacity, or stepping up to higher-power LED testing systems, Vektrex systems and components give you the flexibility to support a wide range of testing conditions. Leading LED, VCSEL, and SSL manufacturers and test labs worldwide rely on Vektrex systems and components for unmatched power, capacity and reliable performance.
Vektrex reliability systems are built on a compact rack footprint with proven components and a versatile modular architecture. The scalable modular design enables easy system expansion for increased capacity or specialized test performance.
With a full range of SpikeSafe™ current source options, system components, chambers, fixturing, load board designs, cabling and software, Vektrex can provide the ideal testing solution for any size lab – large or small.
Let us help you get started. Our customization page will lead you through the decision making process to configure your system.
Reliability and quality are cornerstones for Vektrex LED Reliability Test Systems. Based upon industry standard SpikeSafe current sources, the modular, scalable systems support DC and Pulsed mode and other specialized LED test protocols. SpikeSafe Test and Reliability System (STARS) is an easy to use software application developed to address the needs of Research and Development Engineers, Reliability Technicians, Reliability Managers and Quality Assurance Managers. STARS manages up to 32 individually controllable SpikeSafe modules (512 independently controllable current source channels). With 98% efficiency, Vektrex LED reliability systems save cost and electricity shortening return on investment.
When using Vektrex LED Reliability Testing Equipment, products are protected by patented SpikeSafe technology that monitors drive voltage and current for anomalies. If an anomaly is detected, drive is rapidly terminated. This shutdown preserves the individual device for failure analysis, and it ensures other devices in the circuit are not damaged, ultimately improving overall reliability.
Key Benefits:
High capacity
High power
DC and pulsed mode
Energy efficient; 98%