A Pulsed High Current SMU.
Built for Power, Measurement Accuracy, and Repeatability.
Vektrex's high current SMU provides a wide range of output current to power the device under test. An integrated digitizer provides precise voltage measurement capability ensuring accurate characterization and analysis. This single instrument has broad application by supplying reliable and accurate pulsed currents to 60A while simultaneously measuring voltages to 400V. Precise pulsing with low microsecond rise times, low-jitter triggering and integrated digitizer results in more accurate and repeatable high-power LED and laser testing.
For lower current SMU requirements see Spikesafe Source Measure Unit.
Short Pulse Test Using High Current SMU
High current SMU (Source Measure Unit) delivers precise and repeatable short pulses with low microsecond rise times for more accurate and repeatable high-power LED and laser testing.
Device junction heating distorts measurements, causing L-I curves to droop and shifting I-V curves. With Vektrex's fast pulse high current SMUs, temperature-independent measurements reveal true device characteristics. Minimum pulse widths as low as 10us reduce junction temperatures for VCSEL, laser diode and other semiconductor devices. Short pulses are recommended to accurately generate IV curves, LI curves, LIV curves, and VI curves.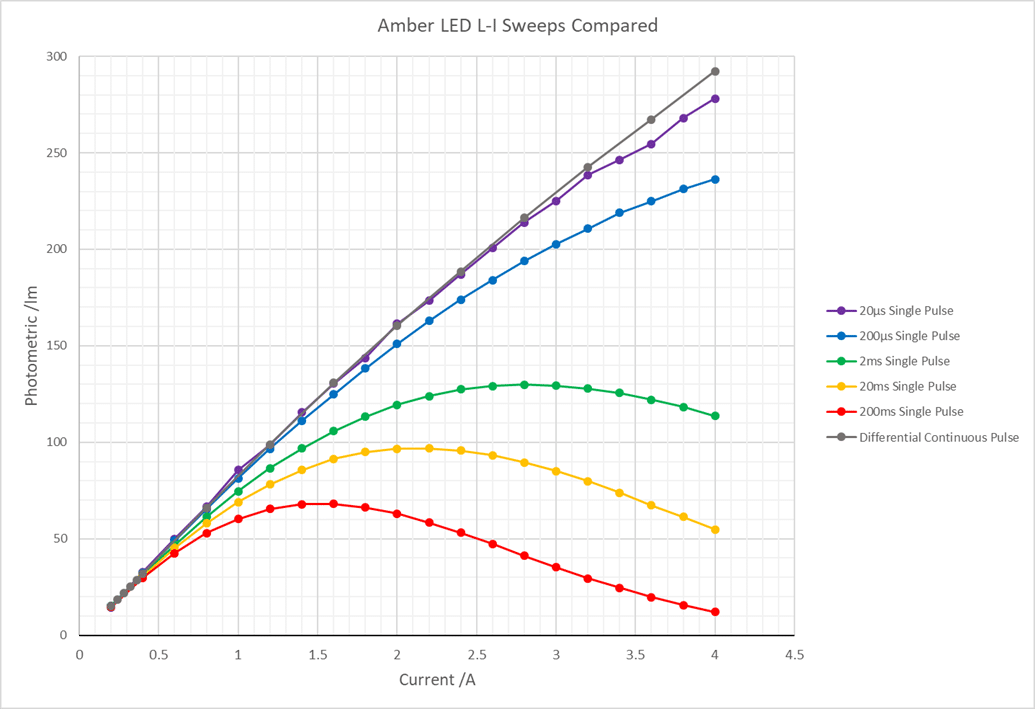 Continuous Output Power
Continuous Power Conversion digitally transfers power from available AC or DC sources to provide sustained output power to your device.The transfer is continuous and does not rely on capacitors like older generation SMUs. This means that it is possible to test in DC or pulsed mode, use short pulses and long pulses at low output power levels to high output power levels.
High-current SMUs provide the power needed for more accurate, efficient and repeatable measurements.
Discover What You Could Not See
With more high-power density LED and laser devices coming to market, there's a gap between what can be tested with traditional source measure units and present-day engineering and production requirements. Power, pulsing and measurement requirements limit usage of previous-generation source measure units.
High Current SMU close that gap by combining the speed and power needed for LED and laser testing with integrated high-speed digitizing measurement. Now you can accurately test what you previously couldn't test, and see what you didn't have the power to see – with remarkable repeatability.
"Crazy Stable" Measurements
A crazy stable measurement is perfect and unexpected. A crazy stable measurement allows you to see something in a measurement you have not seen before and could not have seen before. A crazy stable measurement allows discovery.
Vektrex high current SMU features sub-microsecond to low microsecond rise/fall times, programmable load tuning, and on-the-fly pulse width correction. Together these mean the device under test experiences less heating and more uniform heating. The result is unmatched measurement stability – measurements described by one beta site evaluator as "crazy stable".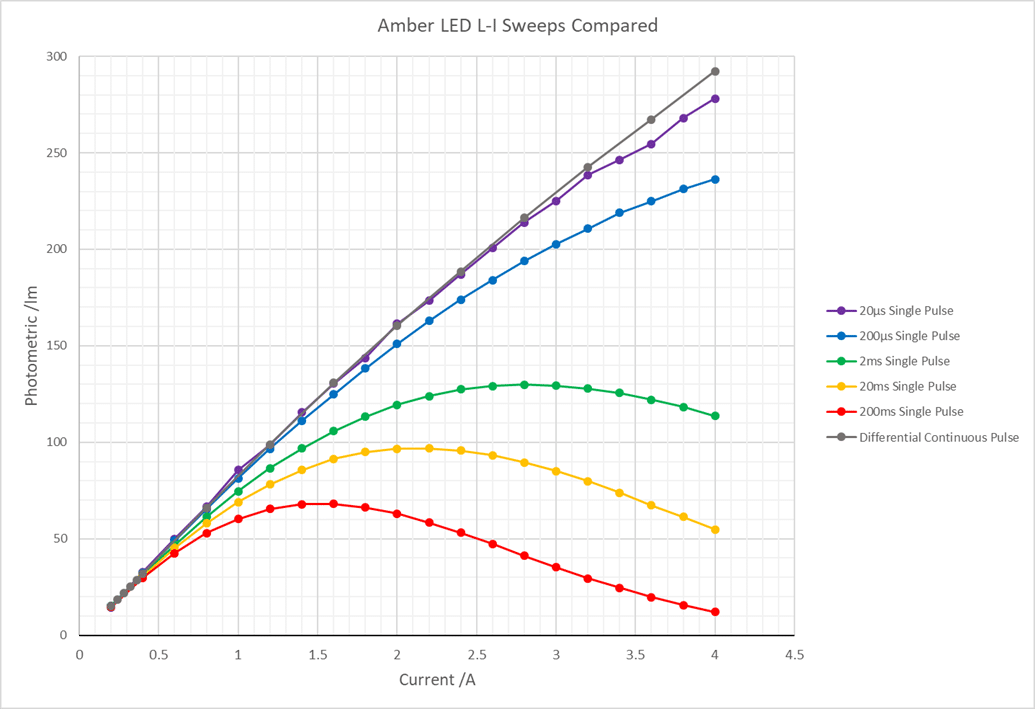 One and Done Measurements
A one and done measurement speeds production. With high current SMU "one and done" measurement repeatability and accuracy, it is not necessary to average measurements. Test time is shortened. Excess data and data processing is reduced. False failures are eliminated improving yield and reducing the cost of test.
With high current SMU measurement repeatability and accuracy a 10X improvement is seen in data from this production test.
True Differential Digitizer
Vektrex's SMU integrates advanced true-differential digitizer technology for accurate Vf measurements. A digitizer is different from a DMM. With a digitizer, the common mode noise present with other measurement technologies is greatly reduced, resulting in more accurate measurements. For example, the high-current SMU digitizer can measure small VF changes, such as a 200uV shift in a high-voltage device.
The graphic below shows Vf measurements for a 1ms pulse. Note the orange trace shows Vf measurements made using Vektrex high current SMU digitizer. The blue trace was generated using a DMM.
Vektrex's SMU uses advanced true-differential digitizer technology to produce time-aligned measurements required by measurement standards.
Force Sense Selector Switch
A Force Sense Selector Switch supplies integrated Connect/Disconnect and A/B Switch functions.
Critical for high speed production environments, the connect/disconnect function is a true isolated switch that rapidly disconnects power to test devices eliminating control steps and speeding testing. Rapid switching times of 1ms eliminate unnecessary delays.
A/B Switch functions allow secondary instruments to share load wiring and switch in and out. Many test environments include special instrumentation to support low current and reverse voltage measurements. These measurements, while important, comprise a minimum percentage of total measurements. With many specialized instruments available and currently in use, the A/B switch function simplifies system upgrades where the higher currents, faster pulsing, and better measurements available with the high current SMU are important.
What Current Do You Need?
Vektrex-developed Control Panel Software Application
Vektrex's easy-to-use Control Panel Software Application provides turn-key control of the high-current SMU and other instruments generally found in a test system. Control Panel's intuitive test tools and graphic displays support common optoelectronic tests such as IV curve generation, LIV curves, LI sweeps, junction temperature, and thermal resistance measurements. With Vektrex Control Panel software application it is easy to determine the electrical characterization for unstable parts. Control Panel combined with High Current SMU provides the flexibility to validate and document device usage in end user applications.
Available Drivers and Examples
Standard SCPI command protocol is used for remote communication. Vektrex provides documentation and tools that make integrating our SMU into test systems easy.
Python API contain all the modes and core functions for Vektrex High Current SMU. In addition, there are examples of common measurement applications like I-V sweeps, junction temperature measurements, and other measurements.
Python drivers for the SpikeSafe products and detailed code samples:
Download: Vektrex Python API Driver and Examples
C# .NET drivers for the SpikeSafe products and detailed code samples:
Download: Vektrex SpikeSafe API Driver and Examples
Resources
SMU Specifications (to 10A)
High Current Specification (to 60A)
IV Curves
Press Release
Video: How to Generate an IV Curve
Video: How to Achieve "Crazy Stable" Measurements
Video: Easy Light Measurement System Upgrade